The Smart Shipping Hackathon is a FLOAT event, organized by De Vlaamse Waterweg and Antwerp Management School, with the support of Maritieme Toegang and Departement Mobiliteit en Openbare Werken, with the aim of unlock the potential of Smart Shipping.
The Hackathon, which will be virtually held from 26th to 27th November 2020, is a two day event which will bring together specialists from different disciplines to exchange ideas to solve one central problem: the automation and digitization in the inland shipping sector. The focus will be on four concrete challenges regarding communication protocols, corridor planning and practical problems with unmanned navigation.
During the hackathon, teams will have 48h to build a solution for one of the 4 defined challenges: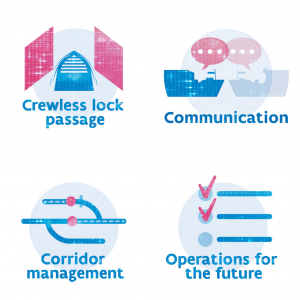 A group of sector experts will provide coaching for the teams, to guarantee a problem-solution fit. At the end of the event, each team will pitch its solution.
Would you like to contribute with your ideas? Sign up here for this unique event. The future of inland navigation is in your hands!