AUTOSHIP will validate R&A technologies on-board as well as their control centres on the shore, considering the requirements and delivering added value for the whole value-chain from port infrastructures to logistic operators. The technology package will include full-autonomous navigation, self-diagnostic, prognostics and operation scheduling, as well as communication technology enabling a prominent level of cyber security and integrating the vessels into upgraded e-infrastructure. In parallel, digital tools and methodologies for design, simulation and cost analysis will be developed for the whole community of autonomous ships.
Both the use cases developed within the project, will be functional to achieve autonomous operations at level 5 (AL5 in Society of Automotive Engineers): AUTOSHIP will advance situational awareness technology through the utilisation of additional advanced sensor technologies, sensor fusion and analytics. With the use of additional sensors and related technologies, the operators in shore control centres can also be given enhanced situational awareness. These technological groups will be developed, integrated and deployed according to 5 cornerstones interrelated by a comprehensive cyber-security shield:
New Intelligent Awareness System and an Artificial Captain
New Intelligent Asset Management and advanced simulation and data analytics
New Digital twin and Artificial Chief Engineer
Full integration with on-shore logistics systems
New Shore Control Centre, communication and connectivity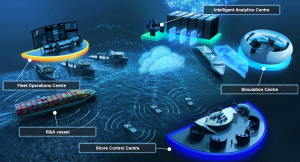 AUTOSHIP Digital environment
Joining together Kongsberg to complementing partners, including Sintef, Bureau Veritas and The University of Strathclyde will allow generating and evolving common assets like simulators, Support Decision Tools for techno-economic analysis, training protocols and legal and insurance frameworks.
A complete set of Key-Enabling Technologies (KET) will include on-board autonomous machineries and autonomous navigation systems. Key features will be developed far beyond current availabilities with a focus on main challenges enabling the automation leap in:
navigation, awareness and control challenges,
sensors, detection, predictive maintenance and safety challenges
connection and communication with on-shore infrastructures.
KET will also include the integration of Data Analytical and Simulation Centres with the purpose of developing and optimising the A.I. solutions (e.g. Machine Learning algorithms, Health and Energy Management solutions) and a Digital Twin simulation model respectively. All systems will be integrated into one or several Digital Platforms. The platform provides access to advanced data analytics and machine learning tools and methods that can be utilised by applications that are built. KOGNIFAI Edge gateway and Global Secure Network will be used to securely transfer sensor data to land.
AUTOSHIP will also deploy Sintef's SEATONOMY approach which connects technology design, operations, regulations and cost-benefits, thus considering acceptance and potential for business improvement into the design phase. A value-chain approach including vessels operations and cargo logistics will be thoroughly considered in tests and simulations as the partners will join efforts to complete an impact evaluation which will consider acceptance needs and changes in jobs and economy for crews, ship operators, operations and logistics. This will help defining new training protocols, required skills and developing new business models and cases. Specific tasks will elaborate on those of the selected early-adopters, paving the way for replicability.